Is your hotel website HTTPS ready?
Google has existing features such as credit card autofill which is too powerful to be used over non-secure HTTP websites. Hotel websites that aren't HTTPS secure run the risk of losing the trust of potential guests who do not want to give out their personal and payment details to make a booking over unsecured websites.
What does HTTPS ready mean?
Hypertext Transfer Protocol (HTTP) + Secure Socker Layer (SSL) - Hypertext Transfer Protocol (HTTPS) = Secure, safe Internet transactions. Check the address bar at the top of your browswer, it should have the lock icon with addition of "https" at the front of the URL which indicates you are in a secure session.

Is Your Hotel Website Non-Secure?
Non-Secure Website (see screenshot below) If you see the current warning below it is already asking visitors not to enter credit card informations as it could be stolen by attackers. Currently Google only displays the warning when you click on the 'i' icon in the address bar and may display explicit warnings to visitors. This can be damaging to your business when your potential guests go elsewhere to make their bookings, so don't delay and get your website HTTPS ready now.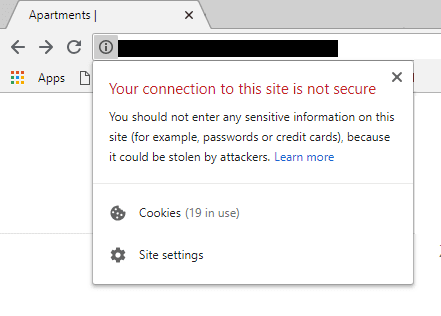 What are the benefits of being HTTPS ready?
HTTPS ready websites benefits Google site conversions. Chrome now marks HTTP pages as "Not secure" if they have password or credit card fields. Guests that visited other non-secure websites do not want to provide personal and credit card details to unsecured websites may come to your website and book with you instead, hence generating more revenues for your business. Guests now feel safe to book via your website. Create a safe environment where your guests can trust your website and make direct instant bookings with you (Commission-Free).